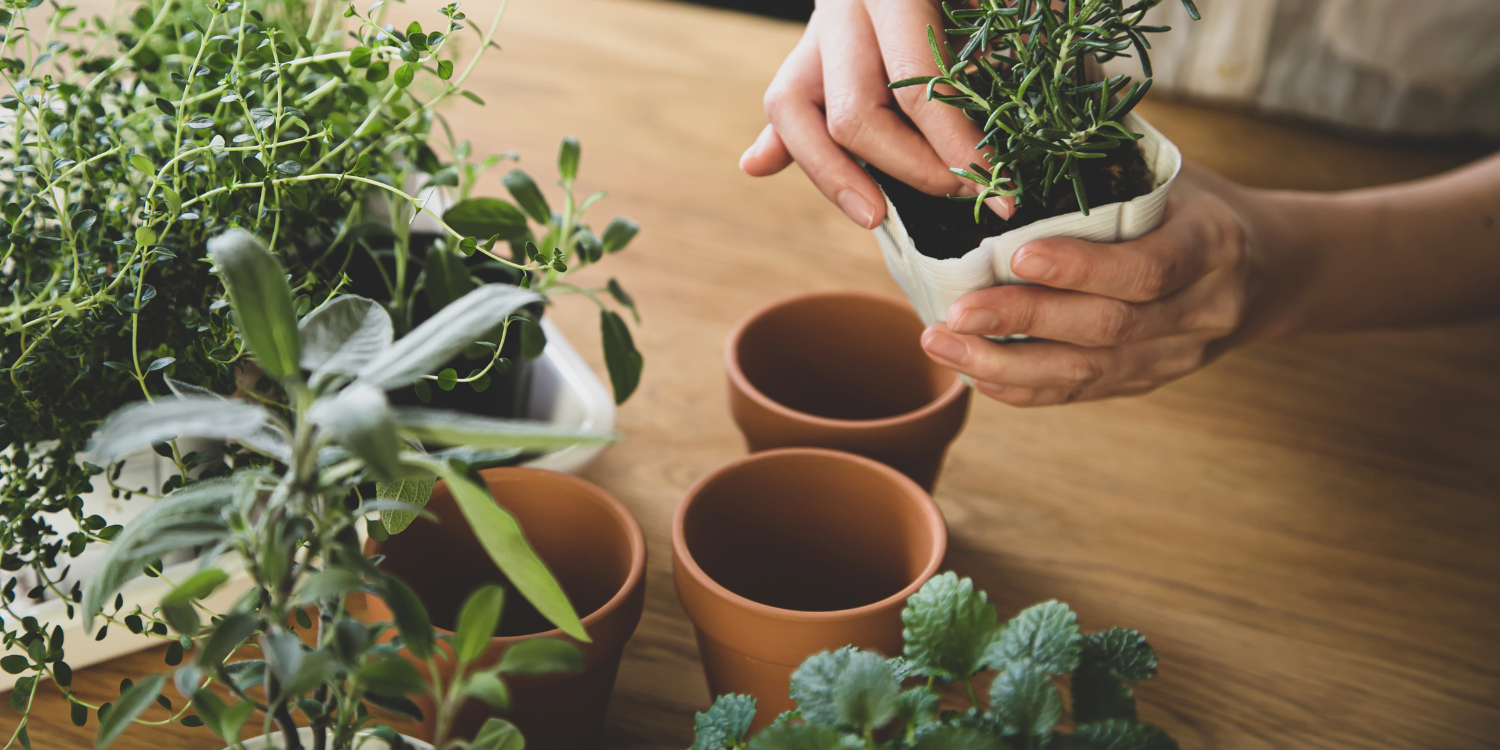 Fresh Herbs All Season Long
A Guide to Springtime Herb Gardening
Fresh herbs are a great way to add flavor to your meals, and spring is the perfect time to start an herb garden. In this guide, we'll explore the basics of springtime herb gardening, from choosing the right herbs to caring for them all season long.
The first step to successful herb gardening is choosing the right herbs. Some herbs, such as basil and parsley, prefer warm weather and should be planted after the last frost. Other herbs, such as chives and thyme, are more cold-tolerant and can be planted earlier in the season.
Consider the types of herbs you use most often in your cooking, and choose varieties that are suited to your growing zone. Some popular herbs for springtime gardening include:
Chives are a hardy, onion-like herb that can be grown in full sun or partial shade. They are typically used as a garnish for soups and salads, and their purple flowers are edible and make a beautiful addition to any dish.

Cilantro is a popular herb in Mexican and Asian cuisine, and is used to add a fresh, citrusy flavor to dishes. It prefers cooler temperatures and can be planted early in the spring, but may bolt and go to seed in hotter weather.
Dill is a delicate herb that can add a unique flavor to salads, dips, and seafood dishes. It prefers full sun and well-drained soil, and can be planted after the last frost.

Mint is a hardy herb that can be used in a variety of sweet and savory dishes, as well as for making tea. It prefers partial shade and moist soil, and can be invasive, so it's often best grown in a container.
Oregano is a staple in Italian and Mediterranean cooking, and can be used fresh or dried to add flavor to sauces, stews, and meats. It prefers full sun and well-drained soil, and can be planted after the last frost.

Rosemary is a fragrant herb that can add flavor to roasted meats, potatoes, and breads. It prefers full sun and well-drained soil, and can be pruned to maintain a compact shape.

Sage is a strong-flavored herb that can be used in stuffing, sauces, and meat dishes. It prefers full sun and well-drained soil, and can be propagated from stem cuttings.

Thyme is a versatile herb that can be used in a wide range of dishes, including soups, stews, and roasted meats. It prefers full sun and well-drained soil, and can be planted early in the spring.

15 Culinary Herb Seeds Vault



Once you've chosen your herbs, it's time to prepare the soil. Most herbs prefer well-draining soil with plenty of organic matter. If your soil is heavy or clay-like, consider adding compost or other organic matter to improve drainage.
If you're planting your herbs in a container, be sure to choose a pot with good drainage holes and fill it with a high-quality potting mix.

When planting your herbs, be sure to space them out properly to allow for growth. Most herbs should be planted at a depth of 1/4 to 1/2 inch. Water your herbs regularly, and be sure not to overwater them, as this can cause root rot.
Herbs generally prefer full sun, but some varieties, such as mint, can tolerate partial shade. Consider the sunlight requirements of each herb when choosing a location for your garden.

Harvesting and Preservation
Once your herbs are growing, it's important to harvest them properly to ensure that they continue to produce throughout the season. When harvesting, be sure to cut the stems back to just above a set of leaves. This will encourage new growth and prevent the plant from becoming too woody.
To preserve your herbs, consider drying them or freezing them for later use. To dry herbs, tie them in small bundles and hang them in a warm, dry place until they are completely dry. To freeze herbs, chop them finely and freeze them in ice cube trays with a bit of water or olive oil.

Herbs are generally hardy and pest-resistant, but they can be susceptible to a few common problems. Be on the lookout for aphids, spider mites, and fungal diseases such as powdery mildew. If you notice any signs of pests or disease, treat them promptly with an organic insecticide or fungicide.

In conclusion, springtime herb gardening is a great way to enjoy fresh herbs all season long. By choosing the right herbs, preparing the soil, planting and caring for your herbs properly, harvesting and preserving your herbs, and being mindful of pests and diseases, you can create a bountiful and delicious herb garden that will last throughout the season. With a little bit of care and attention, you'll be enjoying fresh herbs in your meals all year round.