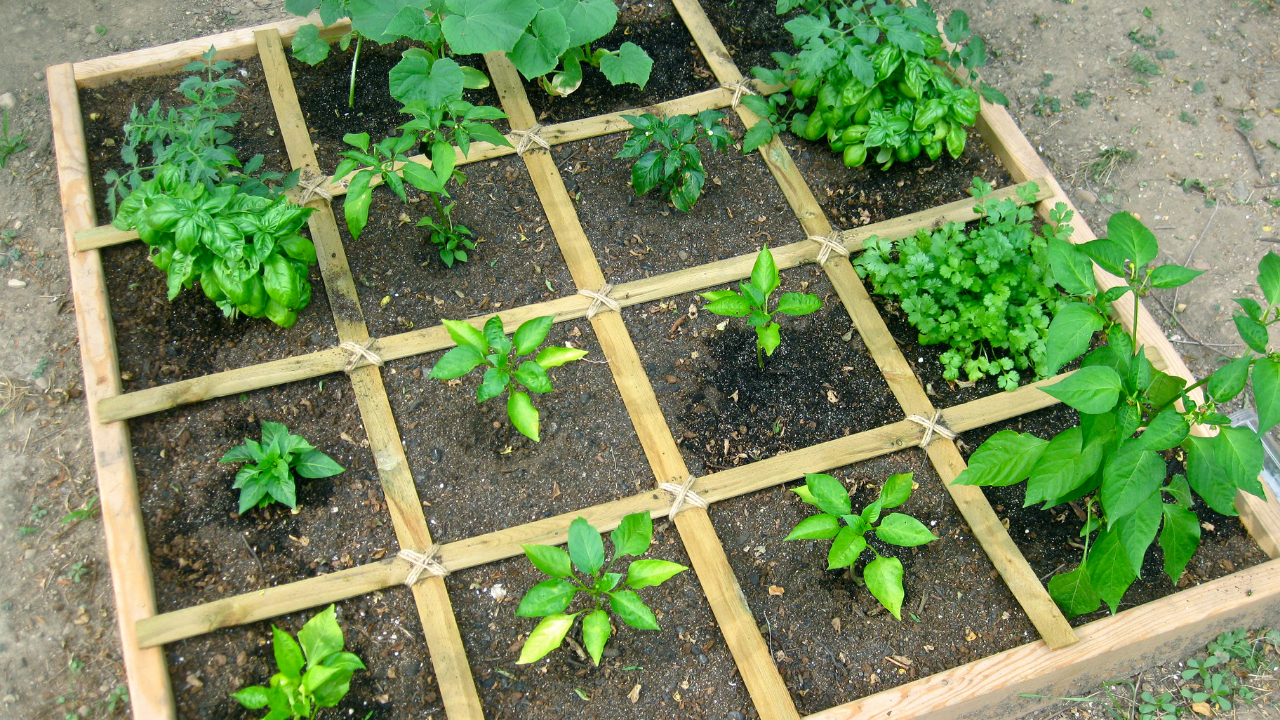 Square foot gardening is a great way to garden with limited space. It's also the most efficient and least expensive method of growing your own vegetables, fruits, and flowers. Square foot gardening can be done on any scale, from a patio container to an entire acre of land.
When it comes time for harvest, you'll have plenty of fresh food all year long!
Here's how to start square foot gardening, regardless of how much - or how little! - experience you might have.
What is a Square Foot Garden?
The concept of square foot gardening first came on the scene in 976. Coined by Mel Bartholomew in the book Square Foot Gardening, this model has been revised several times since but the basics remain the same.
The theory is that you will use a bottomless raised bed filled with soil, vermiculite, compost, and peat moss. That way, you'll have lots of nutrients to feed a large number of plants. This probably isn't a new concept to you!
However, what's unique about this model is that you will not plant in rows. Instead, you'll plant in one-foot sections, with each square planted in grids. These grids will be divided based on the spacing recommended for your individual plant type.
What's the benefit of this?
Not only does it offer a quick, convenient way to expand your garden, but it can help you keep your plants organized and easier to maneuver. You won't have to worry as much about weeds infiltrating, nor will you need to worry about compacted soil between rows.
How to Start Square Foot Gardening: Step by Step
Ready to give this unique gardening idea a try? Here are some tips on how to start square foot gardening today. It won't take you long to set up - we promise!
1. Gather Your Materials
Although you may be able to build your square foot garden with some repurposed materials or items you have on hand, in general, you'll need the following:
Two 8-foot long 2x6 boards

A box of wood screws (generally 6" will do the trick)

Cordless drill

Cardboard

3 cubic feet each of peat moss, vermiculite, and blended compost

String and small finishing nails

Garden cart

Basic gardening tools (shovel, garden hose, rake, etc)
When selecting the material for your beds, choose wood that is untreated, as lumber (pressure treated) can leach chemicals into the soil and endanger your plants. Use rot-resistant wood such as redwood, cedar, hemlock, pine, or fir.
2. Build the Garden Boxes
Next, you'll need to build your garden boxes. Cut the boards into four-foot sections, then pre-drill three holes on one end of both boards.
Get your boards into position so that they form a square, then screw them together.
3. Put Your Raised Beds Into Position
Once your raised beds are built, you can get them into position. Before you move them and fill them up with soil, cut the grass in the area where you'll be planting as low as you can. Put down a layer of cardboard (you can use newspaper, instead, if that's easier). This will kill the grass and will also make weed growth slower in the future - though it probably won't prevent it entirely.
4. Mix Up Some Soil and Fill the Beds
Now you are going to need to mix up some soil. The best garden soil for a square foot garden is made out of equal parts peat moss, vermiculite, and finished compost. Combine these ingredients in your garden cart or wheelbarrow.
Why is the mixture so precise? You can certainly use any other kind of soil you want while creating your beds, but you will want to use a mixture that is nutrient-dense. Square foot gardening requires intensive planting and it's important that your soil has everything your plants need to stay healthy.
Once your soil is mixed up, you can add it to your raised beds. As you add it in, hose the mixture down so it's well saturated and ready for planting.
5. Insert Your Grids
The last thing you need to do before adding your plants is to divide your bed into one-foot sections. You'll install a permanent grid by measuring things out with string and a few small nails.
6. Plant!
Now it's time to plant! Follow the spacing that's recommended on your seed packet for the best results. Tall plants should be grown song the northern side of the bed so that they don't shade out shorter ones.
If you're growing plants that will need to be thinned out, like carrots, remember that thinning six inches apart is equivalent to planting four plants per square.
7. Care for and Harvest Your Plants - with Ease!
Once your plants are in the ground, all that's left to do is care for them - and to harvest, of course. You'll want to keep your beds well-watered (the amount you need to water will vary depending on the time of year and your climate, as well as what kinds of plants you are growing).
Weeding, fertilizing, and mulching are all tasks that will be made far easier when you are growing in a square foot garden. Harvesting your plants, too, will require less labor - you'll be able to reach all of your plants easily without having to step into the beds.
Does Square Foot Gardening Really Work?
Square foot gardening poses many benefits. Not only is the smaller footprint easier to maneuver and work around (a benefit both in terms of maintaining your garden as well as during harvest), but the soil also doesn't become as compacted, since you'll never step inside.
It's the perfect growing option for gardeners with minimal space as well as those who are seeking an easier way to garden - it really does work!
You don't need a sprawling backyard to have your own garden plot. Square foot gardening is the perfect way for anyone with limited space or time constraints.
With just a few square feet of land, you could grow enough vegetables and herbs to last an entire year.